I begrudgingly began using Twitter over a year ago as it had emerged as a social media juggernaut and it behooved me to get myself up to speed, as that's kinda what I sorta do for a living. My adoption was slow at best and up until last week I was probably logging in and pretending to "get it" about once a week. Well, a couple of days ago I truly "got it" and I really wish more of my personal friends and colleagues were using it – hence this post.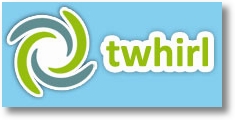 If you have a Twitter account, even one that is gathering dust, please feel free to add, follow and interact with me. We didn't have to go to high school together – you can just be a fan of the blog, a creepy ex-girlfriend, a creditor, etc: Pyeman73. My Narcissism is rampant but not fussy.
The other reason I have warmed up is my discovery (via a friend's tweet, no less) of a great application called TWhirl, which makes using Twitter about 3 times as fast and easy as it used to be. It runs quietly in your taskbar, alerts you to new tweets via a subtle pop-up and opens with a click any time you wish to contribute. You can also cross-populate Pownce and Jaiku (two other popular Twitter-esque sites) automatically. If you currently have no clue as to what I'm talking about please be patient and read on. If I'd had Twitter laid out for me like this a year ago I might have taken it to heart straight away.
What Twitter Isn't
An instant messenger.
An RSS feed.
A blog.
What Twitter Is
A social media messenger: You are sending a "tweet" to a large group of people all at once in real time, as opposed to just one other person.
An RSS feed "on steroids": as I've seen it described. A traditional RSS feed keeps you updated whenever the blog of a friend, foe, peer or other person of note is updated without you having to visit 72 blogs via your bookmarks every hour on the hour. It could be said that Twitter updates you on the "thoughts" of those same people in real time.
A micro-blog: Watch as people update you throughout the day as the mood strikes them as opposed to a traditional blog that might creak into action 3 times a week. The 140 character-limit per tweet keeps the lines from becoming blurred on this point.
A micro-distribution list: Instead of spending a half hour setting up and sending a mass email linking to your latest baby pictures on Flickr, send a tweet and all your best buddies will see it right away. Twitter automatically shortens URLs so that they don't take up too much of your 140 character limit. On second thought, just don't send me the baby pictures, full stop.
Practical Twitter Uses
Groveling: Ask a question of your professional peers, who are also Twitter addicts, and get thousands of dollars of consulting advice for free and almost instantaneously. Obviously this does not apply to every single industry. I haven't seen to many ball-scratching construction foremen wearing "I'm Tweeting" t-shirts, for example.
News: Information spreads like wildfire on Twitter, and if you're following industry peers or thought leaders – you're often getting it from the horse's mouth.
Whoring: Encouraging acquaintances to vote for or "Digg" your blog posts, articles, press releases, etc. Don't send out annoying pop-up IMs one at a time to 30 people – send out one tweet. If they want to ignore it, they can. Entirely unoffensive.
The Liquor: Where are you and your co-workers or friends going for drinks tonight? It's Thirsty Thursday, after all. This use isn't quite as important as the first three examples, but most of the social media mavens I know are also pissheads. Hyperlinks respectfully forgone.
Are You Gonna Tweet All Day Little Birdie?
Twitter is the water cooler of 2008. I forget where I saw it, but I'm sure I didn't coin that phrase. To help you visualize that statement here are a collection of real tweets I have received this week:
"Is anyone else excited for the new episode of The Office tonight?" – From a friend of mine who wants to have John Krasinski's baby, or at least some of his DNA on her chin. It was accompanied by a link to a plot summary she had found.
"New blog post on how to start and spread rumors." – From an industry peer of mine who likes to send out a tweet to all of his friends whenever he posts a new article on his blog. Many of them would eventually read the article anyway, but Twitter allows you to self promote and get info in front of eyeballs instantaneously.
"Best Damn Tech Show, Period. films tonight, DM if you are in the Philly area and want to hang out!" – DM stands for "direct message" and this podcaster is using members of his audience following him on Twitter to announce an episode taping. In the process, he is likely going to strengthen his brand, attract some new followers and eventually gain listeners.
"There's a giant lake monster attacking the Ottawa suburbs and everyone must evacuate immediately!" – As Twitter officially launched in October 2006 I don't think anyone's had the opportunity to utilize it as a distant early warning system… yet. Why is my glass of water rippling? OH JESUS NO…. (flatline).
Related Posts :
Related Posts: