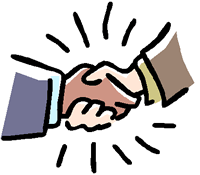 Is it a business directory? Is it a business networking site? Is it an overzealous hybrid destined to over-extend itself and die on the vine? For our purposes today we'll refer to them as "biz sites" and it can't hurt to familiarize yourself with the wide range that are available. They're free to use, easy to sign up for and potentially helpful to your company or agency in a wide variety of ways you may not have realized.
Although LinkedIn and Plaxo have an imposing headlock on the B2B and B2C business networking space, there are a lot of others jockeying for position whom you likely haven't even heard of – let alone begun to utilize. Although taking the time to register your own company or that of a client on these "2nd-tier" networks probably won't result in the flood of direct traffic, leads or new contacts that the major players may have driven – there are still very tangible and numerous benefits to taking the time to build yourself a presence on each. These are listed in no particular order as I recommend them all as part of any comprehensive ORM or SEO effort:
Social Networking Sites for Business
Business Networking Sites for Direct Traffic
How many of today's most successful web entities started in a dorm room? What is small time today might be huge tomorrow and even if you don't start immediately having your door beaten down by contacts and customers who find you via Zing – you never know. It's also important to take into consideration where some of the new or lesser business networking sites may have a strong foothold internationally. Even if a given biz site is only big in Asia it's still going to provide you with a brand new link. Considering the supplemental benefits we're discussing today I believe they are worthwhile if well designed and well intentioned – regardless of a site's current popularity.
Business Sites for Search Engine Optimization
Unless you've been exiled to Siberia for the last two years you know that building one-way, incoming links to your website is an enormously important facet of SEO. All of the aforementioned sites allow you various levels of link inclusion. Some limit you to a URL, some automatically link the URL with the company name you input and others allow for the embedding of links in HTML-friendly summary sections allowing you to craft the hyperlink text to your target keyword specifications. A few hours spent creating presences on all of the aforementioned sites is going to be of better SEO value than a week of submissions to crummy "directories".
Business Sites for Online Reputation Management
On many of the sites I list below you can get your company or personal name into the URL, header tag, title tag or a combination. As these three elements are held in very high regard by search engine algorithms, biz sites can be tremendously helpful for online brand reputation management. If someone Googles the name of your company, for example, and finds your dedicated page on Spoke – that could mean a negative blog post from a critical customer being pushed down to the second page of the search results for a potential one.
Do you use a similar biz site that hasn't made our list? Am I using terminology or descriptions that can be tightened up (one of the things that perplexes me about this space is how to properly categorize the different sites)? Do you represent one of the sites listed and want to provide a little more info? Please let me know and we'll keep this post evolving. Get networking/SEOing/Reputation defending and I look forward to your additions and comments.
Related Posts: