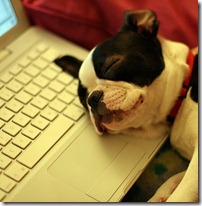 This post already sounds so 2007 but many of the small business owners and entrepreneurs I speak to still don't "get it" – and until they do will never take blogging seriously as a viable channel for attracting new customers. Why not hammer the point home some more, revisit the subject from scratch and turn it into one of those catchy top 10 lists you wonderful web denizens enjoy reading so much? Fantastic, then. And here come the myriad of lame excuses.
10. "That sounds expensive. We don't have any site redevelopment money in the budget."
WordPress is Free!
WordPress isn't the only open-source (free) CMS (content management system) out there, but it's the best. It also has the biggest community behind it which means more support, more developers writing more free plugins and a longer platform lifespan. I won't be telling my grandchildren about WordPress, I'll be teaching them how to use it. So download the software and install it in a new "/blog/" folder on your server. The only associated expense you can really expect might be for a designer to make the blog look like the rest of your domain, although based on it's strengths you may want to consider recreating the entire site in WordPress. It ain't just for bloggin' anymore.
9. "All our time and effort needs to be spent on SEO and SEM for new business development."
Google Loves Blogs
The corporate blog: A better all-around SEO strategy does not exist. It can address and facilitate all of the major facets which Google's 2011 algorithm holds so dear. Let's run down just a few:
Frequently updated and original content. Check.
Many unique, keyword-laden URLs with differing meta data for each. Affirmative.
Integration with and easy sharing within multiple social media outposts (YouTube, Twitter, Facebook, etc.). Roger that.
Increased likelihood of attracting natural incoming links from relevant sources. You betcha.
I could go on. For a long time. A blog marketing strategy is never mutually exclusive to an SEO strategy. It is an SEO strategy.
8. "So now I have to populate Twitter, Facebook AND a blog? Forget it."
Blogs are Great for Cross-Pollination
Stop thinking of your blog as yet another social media outpost that you'll have to populate on a daily basis. Start thinking of your blog as the outpost which automatically populates all the others. Via Facebook connect integration, APIs and WordPress plugins it's very easy to automatically update your Facebook page and Twitter account each and every time you hit the "Publish" button on your blog. Of course you'll want to include additional content unique to your other outposts, but each blog entry gives you a great excuse to ping your audiences across the board and can be set up to happen on autopilot.
7. "Between order fulfillment and Customer Relationship Management we'll never find the time."
Blogs are Great for CRM
Blogs and Facebook pages are already being used by many companies as effective CRM tools. If you add a social media manager at your company in addition to a traditional customer service department, you may be amazed at how quickly the former takes pressure off the latter. Eventually I think the two positions will become synonymous. Engage with existing and future customers in your blog comments. Answer their questions and address their concerns for the rest of the world to see. Folks with an issue can easily have it resolved, and consumers who have yet to make a decision as to whether they'll make a purchase will have their confidence increased when they view the interaction.
6. "I'd rather spend the time creating new services and product pages."
A Blog Can Aid Your Speed to Market
If you have a new service or product in the pipeline you can start drawing relevant organic search traffic for it before the paint is dry. In fact, you can give your site the potential to rank for any term you can think of in a matter of minutes. New static pages on your site can take time to develop and have to fit into your navigation and architecture. Having a blog gives you both a place and an excuse to get information about anything online and ranking in Google, yesterday. The content you can include (all easily filtered via categories and tags)  is limited only by your imagination. And remember – every time you publish a new post using a CMS like the aforementioned WordPress you're creating a unique, static HTML page for the search engine spiders to lovingly digest. Lastly, if you have blog you can link to any new content, anywhere on your site. So when those brand-spankin' new product pages do go live, link to them from a blog post announcing their arrival and Google will find and index them within the same day.
5. "We can't wait for customers to come to us. We have to go find them."
A Blog is Outbound Marketing
They're far more likely to find you if you have a blog. A new blog post is no less "outbound" than paying $1.75 for a PPC click. If you're consistent and maintain the momentum and quality of your posts – you won't be writing in a vacuum for very long. Organic search traffic will not be far behind. Also, remember what you just read about cross-pollination. The blog posts will simultaneously increase the frequency of your other social media outpost updates, casting a much wider net and getting more eyeballs in front of your content.
4. "Our biggest competitor outranks us. By a lot. And they don't have a blog."
Blogs Allow for Easy Differentiation
Give Google a reason to hold your site in higher regard. Your competitor's lack of a blog isn't a reason for you not to bother – it's actually a huge opportunity to differentiate yourself and stand out to search engines and human beings alike. Since their Panda/Farmer algorithmic update, Google is even more apt to reward good-quality original content. And potential customers are more likely to buy something from a site that appears to have actual human beings behind it. Bots love it. Homosapiens with disposable income love it. Stop dragging your feet.
3. "I'm the sole employee. I'll have to do it myself. I don't have the time."
Posts Can be Brief and Somewhat Infrequent
I mention alternate authoring possibilities below, but first let's make sure you understand one important thing – not every post needs to be The Winds of War. You can link to a relevant news article, write an intro, post a quote, add a sentence or two about why you liked/disliked it – and you're done! You can do the same with an embeddable video, article or whitepaper. You'll definitely want to space shorter posts between ones of higher quality, but those can wait until nights and weekends. You're not required to spend an hour or more on each and every one of your posts. Also, a blog which is updated twice or even once a week is still a blog. The more posts the better, but do what you can manage. You don't need a lot of time to make a major difference.
2. "This will actually hurt us. I'm not a good writer and may come off as stupid."
Many Authoring Options Exist
Not everyone was put on this Earth to write and sometimes accepting your weaknesses is a smart thing to do. While you should know that the more you write the easier it becomes, there are alternatives to doing it all yourself. Consider the participation of existing resources. Everyone at your company, from your VP of Sales to the summer interns, may be a potential blog author. If you're a one person operation, many cost-efficient outsourcing solutions exist and it's quite common for companies to use this as an option. It doesn't have to rest on your shoulders alone.
1. The website is already full of helpful information about our product/service."
Become a True Authority on What you Sell
Blogs are a very effective way to build consumer confidence and increase the likelihood of a sale. Would you rather buy a hockey stick from a cookie-cutter drop-shipper's site, or a that of a retailer where you can see real people discussing and reviewing the equipment? Even if the product being searched for isn't mentioned in a specific post of its own, potential customers will know and appreciate that there are knowledgeable staff behind the curtain who care about them, value their business and will be easy to reach if there are any questions or problems during the ordering process.
As I wrote these out, I quickly realized how much crossover exists between the entries. Which in a roundabout way proves my main point – for every excuse you can give me regarding why you don't have the time, the need or the resources for a blog, I can give you 50 or more to the contrary. An original, relevant, well-written and engaging blog effort with a content strategy behind it can help just about every conceivable marketing angle. Don't be afraid. Don't find yourself justifying your lack of a blog with yet another lame excuse. Your target market is out there and are trying to find you. Find a resource, make the time and give your business a voice.
Related Posts :
Related Posts: